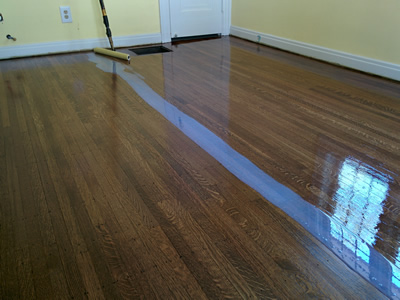 by Gabe 5/2/2017
Wood floor finishing is a complicated subject with many aspects to consider. Oil poly or waterborne? Stain or natural? How many coats? It's a lot to take in all at once. The aim of this article is to serve as a reference and hopefully to help make sense of all the ins and outs of deciding what kind of wood floor finish is right for your unique needs.
Standard waterborne or solvent finish:
This price level is for a normal waterborne or solvent polyurethane. These finishes are moderately priced and have moderate durability, and require three coats (normally two finish coats over a sealer coat). They are stirred and applied straight out of the jug or can. Most if not all of these products tend to turn more yellow or amber as they age especially with light exposure.
WATERBORNE: Waterborne polyurethane offers some advantages over solvent based finishes, including less fumes or potentially harmful chemicals as well as quicker drying and curing times. The fumes are comparable to latex paint and the finish only needs about four hours of dry time before it can be walked on in socks. Usually two coats could be applied in one day requiring a block of eight to ten hours before it can be walked on in socks. It is somewhat easy to apply but goes on thinner than the solvent finishes, not having quite as much build as a solvent finish. It is fully cured after one week.
SOLVENT: The standard solvent product we use is oil-based polyurethane. It has somewhat harsh fumes and must dry overnight before it can be walked on in socks. Each coat must be abraded (lightly sanded with a fine grit) and thoroughly cleaned before the next application. If conditions are too humid or temperature too low it may not be able to be abraded the next day possibly extending the time frame for finishing. It is easy to apply and goes on thick for a great looking finish after the job. It takes about two weeks or longer to fully cure depending on conditions.
Application of stain: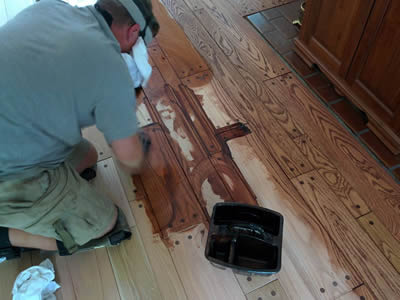 After sanding, the bare wood can either be coated with sealer for the natural wood color or stained darker. The best approach is to do samples to be sure the resulting color and finish are satisfactory. The wood surface must be sanded finer to prepare for staining. The stain is wiped back instead of spread out like sealer and finish, only offering a little protection for the wood and a little build for the finish but changing the color. Only oil-based stains are available for wood floors, with somewhat harsh solvent fumes. The stained surface can be walked on in socks after about four hours of drying time. Any of the finish systems we use can be applied over the stain. Overnight drying is required to coat over the stain in normal conditions, and some reddish colors may take even longer to be dry enough to coat.
Water pop:
Water popping is a technique we have used to open the wood grain by dampening the wood surface and then allowing it to dry. This lets more stain soak into the wood fibers for a darker and richer color. The water popped wood surface is very fragile until it gets stained.
Two component waterborne finish or conversion varnish:
The finishes at this price level are superior in performance to the standard finishes but they cost more and are trickier to use. They have two parts which are mixed and then applied within a limited time. The two component waterborne is a fantastic and very durable finish with all of the advantages of waterborne listed above except it can be somewhat more difficult to apply. The conversion varnish is probably the best finish available but the fumes are extremely harsh.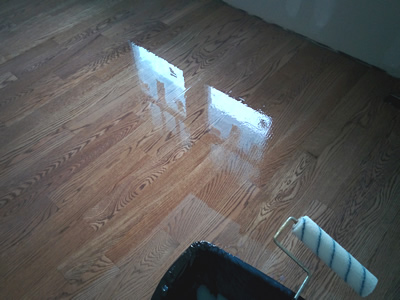 TWO COMPONENT WATERBORNE: The two component waterborne polyurethane we use is similar to epoxy in that the leftover finish from coating will harden up in the jug. It must be applied within four hours of being activated (mixed), whereas some two component waterbornes can be applied up to 24 hours later or be recatalyzed. This is a three coat system: two coats of the two component waterborne over one coat of sealer. The fumes are worse than regular waterborne but still very benign compared to any solvent finish. A great advantage of this finish is that it does not significantly turn amber or yellow over time as solvent finishes and some waterbornes may do. This finish cures faster too-- 75% cured in 48 hours and 90% cured in 3-4 days. It does take a week to fully cure.
CONVERSION VARNISH: Conversion varnish is an acid curing two component solvent finish that is the most durable finish we use and also the trickiest. Due to the nasty fumes people, pets, even food should be removed from the area. The normal system only requires two coats because it goes on very thick with an optional third coat for the high build system (see additional coat below). At this price level the conversion varnish only gets two coats while the two component waterborne is a three coat system. We like to set up large fans to evacuate the fumes if weather permits, but the effects can linger for a day or two after the final coat. This type of finish dries almost as fast as a waterborne finish but takes longer to fully cure like other solvent based finishes.
Additional coat:
This upgrade is to apply another coat of finish, resulting in a thicker coating. The coating will not actually be harder but there is more finish to wear through. Also the coating appears a little thicker and the grain is slightly less pronounced, making the finish look more like a traditional oil-based polyurethane. For waterborne systems this would actually be a fourth coat, which could be considered the ultimate waterborne finish. For the conversion varnish, which goes on much thicker, this would be for the third coat, known as their high build system.