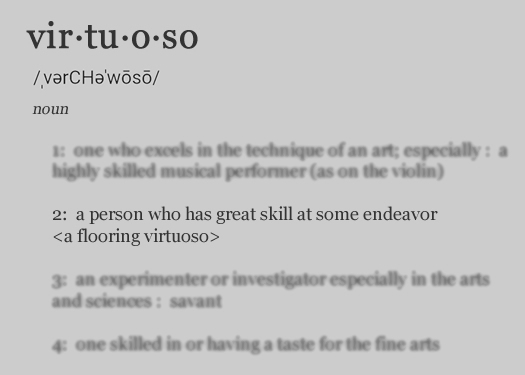 Virtuoso Hardwoods was founded in 2001 with a core focus on serving the needs of those in Indianapolis and Indiana who love and care about wood floors. We have done it all in wood flooring—from installing basic prefinished to creating intricate medallions from scratch to repairing and refinishing historically significant wood flooring in buildings designated as National Historic Landmarks and on the National Register of Historic Places. We have done wood floors in new construction and renovated old flooring from the 1850's. Our pedigree is second to none as is our dedication to the art and science of wood flooring.
MEET THE PROS
Gabe: "I have been working with people to help them have great wood floors since we began in 2001. I enjoy meeting people and assessing job sites as well as working to complete wood flooring projects on time."
Everett: "Continually improving our wood flooring service is and has been my main focus from our beginning. I have uncompromising standards of performance for our work so that our floors rank highest for quality."
We are Gabe and Everett Barnard, brothers from a family with a long history of builders and carpenters. Our grandfather was a trim carpenter and also built and installed cabinets among other things. Our father has been a fixture in Indianapolis area historic construction and building restoration for decades as a general contractor. One uncle has a woodworking school in southern Indiana and has been featured in woodworking magazines nationally, another is a master artisan in all phases of carpentry from crown molding to timber framing. Our skills and abilities are infused with a lifetime of influence from these great craftsman; so too our passion for our craft.