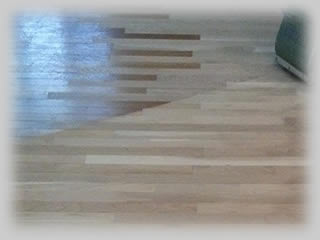 Another benefit of wood flooring over some other types of floor coverings is that it can be repaired easily in most cases. Whether it's to repair termite damage, or replace some urine stained boards, we simply remove the offending floor boards and replace with new (or old if patina is a concern). After sanding it's as though the damage never existed. Face nailed flooring is the easiest to repair because there are no tongues and grooves-- just a square edge that allows the boards to lift straight up. Tongue and groove flooring is a little more challenging. The bottom of the groove must be removed to get the board(s) to fit back in, but a high quality polyurethane adhesive is used on the sub floor, and where applicable, a wood glue or 2 part epoxy is used on the tongue and groove surfaces.
PATCHING VS WEAVING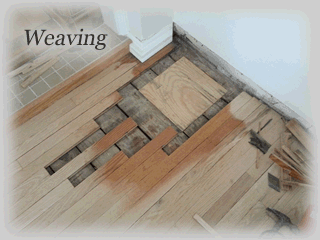 There are 2 types of repairs. Patching, where we just fill in boards disregarding a long line of head joints, is the most inexpensive. Sometimes this is preferable when budget is a concern or the repair is in an inconspicuous area. Weaving is where head joints get cut further back in a random pattern, much like it would have been if it were originally installed that way. This method also enables flooring to extend into other rooms that didn't have it to begin with when the wood runs through the doorway or opening.
SUB FLOOR AND FRAMING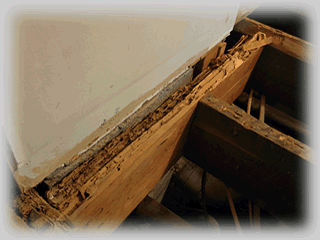 We can also repair the sub floor or framing underneath the floor. Other trades have a nasty habit of just hacking their way through framing to run their plumbing or duct work, leading to an unsafe structural problem. Sometimes when you see a little bit of termite damage in the flooring this is usually an indication that the damage spreads further below the surface, sometimes extending to the joists. We have many years of experience rectifying these situations.