Custom ornamental wood flooring is for us the ultimate expression of art and function. And the tolerances are exacting: there are no grout lines or caulk joints, only a continuous wood surface with contrasting colors to form a design, image, or repeating pattern. The possibilities are endless -- the only limitations are imagination and cost. Whether a medallion, border, custom parquet or pattern floor, the effect is stunning and always one of a kind.
MEDALLIONS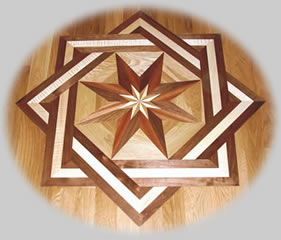 A medallion is typically 2 to 3 feet in diameter made with differing species running in multiple directions to form a design such as a compass, family crest or perhaps a company logo, and placed in a highly visible area in the home, like a foyer. These are typically constructed offsite and installed in the home either during the installation or after, depending on the shape. They can even be installed in an existing floor in some cases.
BORDERS AND FEATURE STRIPS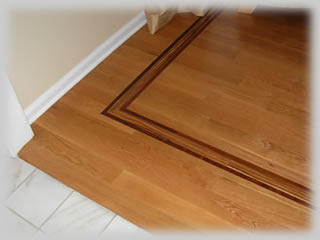 Borders are accents that run around the perimeter of the floor 1 to 2 feet out from the wall and can either consist of multiple species of wood or in the case of a feature strip, a single different species. These can be as simple as 2 different species running the same direction with mitered corners, or as complex as many species running different directions with what could be described as miniature medallions for corner blocks.
PARQUET AND PATTERN FLOORS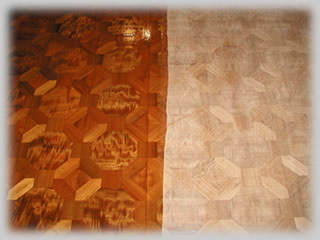 Simply put, parquet floors are floors where the wood is running different directions, as opposed to a straight installation where all the wood is running the same direction from wall to wall.