A wood floor is the finest flooring for a home and can last well over a lifetime. The heart pine flooring at George Washington's home Mount Vernon, still fine well over two hundred years later, demonstrates the capacity of wood (and the honest work of the craftsman) to persist. Since it can endure wood flooring should be installed remembering the words of Washington in a letter regarding the construction of the grandest space at Mount Vernon: "I would have the whole executed in a masterly manner."
AN OVERVIEW OF WOOD SPECIES FOR FLOORS
CHARACTERISTICS OF A SKILLFULLY INSTALLED HARDWOOD FLOOR
THE INSTALLATION PROCESS START TO FINISH
DIFFERENT TYPES OF WOOD FLOORING COMPARED
FLOURISHES TO ENHANCE ORDINARY WOOD FLOORING
WOOD AND MOISTURE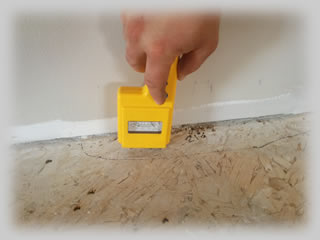 One of the most important things to consider when discussing wood flooring is the relationship between wood and moisture. The National Wood Flooring Association (NWFA) guidelines for wood floor installations stipulate that strip flooring (3" wide or narrower) moisture readings must be within 4 percentage points of the sub floor, and that plank flooring (3 ¼" wide or wider) must be within 2 percentage points of the sub floor. The width of the flooring is proportional to its moisture content-- when it takes on moisture the boards swell against each other, and there's really nowhere for it to go. This can manifest itself as cupping, crowning, squeaks, and in extreme cases, buckling.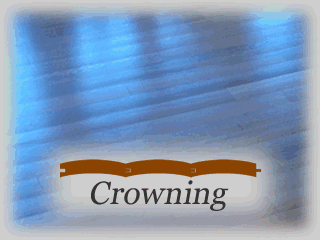 In the past, contractors would just leave the flooring in the house for a week before the installation, known as an acclimation period. Now expensive moisture meters provide exact numbers at the time of installation to ensure that the floor will last, maximizing the investment. There will also be a gap left around the edge of the floor and other vertical obstructions, this is known as the expansion gap. Wood flooring moves constantly, and this movement shouldn't be impeded. This gap is typically covered with either shoe mold or quarter round.
AN OVERVIEW OF WOOD SPECIES FOR FLOORS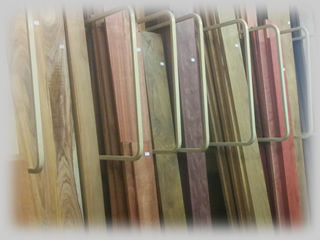 Wood species differ in many ways, hardness, color, open or closed grain, cost, etc. Hardness is determined by a test called the Janka hardness test. This test measures the amount of weight it takes to embed a .444" steel ball into the wood to half its diameter. This is a great resource when determining what species is best for the project because floor finish is only as strong as the wood beneath it. The color is also an important consideration of course. Apart from the classic domestics in wide use like oak, lots of exotic species have gained in popularity in the last few decades. From Brazilian Cherry to African exotics like Sapele, there is a wide variety of wood species to choose from.
CHARACTERISTICS OF A SKILLFULLY INSTALLED HARDWOOD FLOOR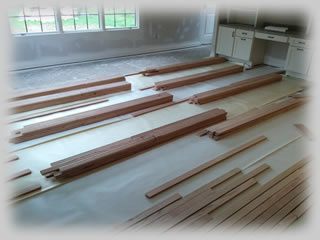 A high quality wood flooring installation starts with the foundation upon which it is laid. Proper preparation of the sub floor is key-- not only does it need to be a good flat surface, but it also needs to be solidly affixed to the joists. Time should be taken to determine the starting line that is the best possible compromise with all walls, doorways, hearths or other such parallel items. Then the flooring itself should be glued with a high quality polyurethane adhesive under the beginning and ending rows along the walls where the cleat nailer can't be used. An approved moisture retarder should be used between the sub floor and the flooring where glue isn't used. The NWFA nail spacing guidelines should be followed to assure the boards are adequately fastened to the floor in the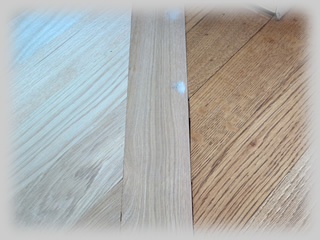 field. The spacing of the head joints should appear as random as possible, with no sisters, stair steps, "H" joints, or other repeating patterns. Boards with unacceptable mineral streaks, or other unsightly defects, and excessive short boards should be culled and used under cabinets or in closets. Trim, casings and transition pieces should cover any gaps around the edge. Butt ends that meet up against a threshold, bullnose, frame or other turn board should be angle matched and interlocked.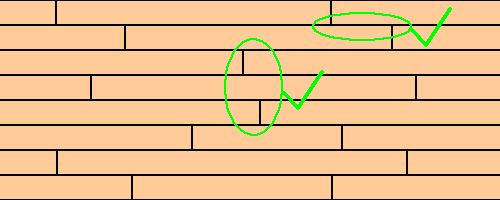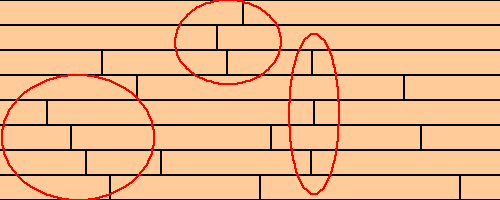 THE INSTALLATION PROCESS START TO FINISH
-Carpet or other type of floor is removed
-Sub floor is prepped, drywall joint compound scraped off, protruding nails and staples removed, sub floor nailed or screwed off and unevenness sanded flush
-Sub floor is vacuumed thoroughly
-Control line is snapped and checked against all vertical obstructions or other visible items such as parallel bullnoses, thresholds, hearth frames, etc to avoid a thin strip (sometimes still unavoidable)
-Starting lines are transferred to wall or area where the first boards will be installed
-Straight boards are found and placed along starting area
-Premium quality adhesive is used as well as face and blind nailing with a finish nail gun to install starting rows lined up with starting lines, this line is literally the starting point for a good straight installation
-Sub floor is covered with silicone infused moisture retarder, overlapping the seams
-Bundles of flooring are placed onto the moisture retarder
-Body of floor is racked out loosely, end rows cut, being careful to avoid repeating patterns mentioned above
-Loosely racked boards are nailed tight with a blind cleat nailer
-After the flooring is installed too closely to the wall to use the cleat nailer, final rows are then glued to the sub floor with premium polyurethane adhesive and face nailed
DIFFERENT TYPES OF WOOD FLOORING COMPARED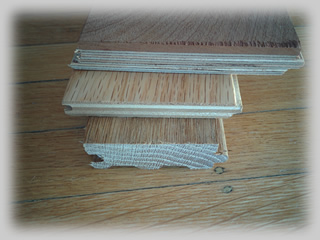 There are other options available today besides a typical 2 ¼" solid oak floor. Engineered flooring is flooring with a solid wood wear layer (the part of the floor board above the tongue), but a high quality plywood substrate. This type of flooring is much more stable than solid wood but is just as thick and can be sanded just as many times. Not all engineered flooring is created equally, there are some low quality types offered by Lumber Liquidators that are thin, and have a very thin rotary cut veneer wear layer.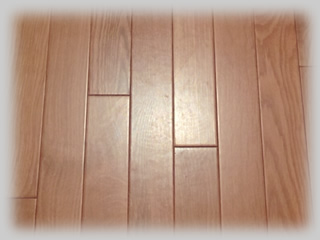 Prefinished flooring has been used more and more in recent decades. The ability for home builders to have the flooring installed and forgo the sanding and finishing process, that usually shuts down a construction site for a week or more, makes it a natural fit for new construction. Many of these products have very hard aluminum oxide finishes that, while they wear very well, are difficult to sand when they inevitably do wear out. Because they don't get sanded flat, unevenness between boards remains and the high spots take the brunt of the wear. Prefinished flooring is also beveled because of this unevenness, which results in a V channel between each row that can collect dust, requiring a vacuuming to clean rather than a dry mopping.
FLOURISHES TO ENHANCE ORDINARY WOOD FLOORING
| | |
| --- | --- |
| | Flush mount vents have a frame that is installed with the flooring, and the lid is sanded flush with the rest of the floor. |
| | Drop in vents are wood vents that are sanded and finished to match the floor, but just drop right into a standard vent opening. |
| | Custom transition pieces help to blend different types of flooring together. These are made specific to each case, kept as low profile as possible and finished to match the wood flooring. |
| | Flush floor receptacles are offered in brass and brushed aluminum. |
| | Medallions, borders and pattern floors |